So my mom's cancer sucks. I'm just saying. It's all up in her lymph nodes. Which is completely inappropriate. She's a married woman. There is only one person that should be all up in her boobs. And that's all I'm going to say about that.
That
being said, I didn't want to write another heart wrenching post because they wrench my heart and I'm sick of them. What's more, I was thinking to myself. WWMMW? (What Would My Mother Want?) Or need for that matter. Well after spending her days soul searching and dealing with the hysterical masses followed by nights of heavy drinking ( I kid, in case you hadn't figured that out.) I thought my mom might be in need of a good laugh or a simple pick me up.
One year ago I found myself in need of a pick me up and decided to do a confessions post. For those of you that don't remember those are really just excuses for me to post pictures of
Trent Edwards
. I do that because looking at pretty people cheers me up.
So Mom, I would like to encourage you to exercise your right to claim that it's five o'clock somewhere and pour yourself a glass of wine. You can even drop a Valium in it if you want.
Johnny doesn't need an excuse to drink and neither should you.
These confessions are yours:
Before there was Team Edward or Team Jacob, there was Team Angel or Team Spike. While my mother found Angel dreamy,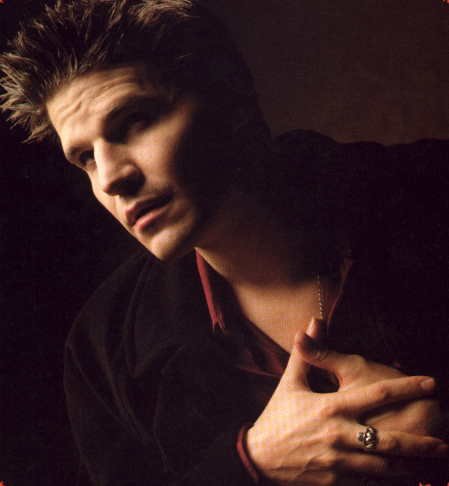 It was only when Spike walked on the screen that she would "Woot!" That's right my mom wooted.
Once upon a time one of my mom's friends (it's important to note that she was a highly intellectual woman) confessed that she married her husband because she thought he looked like Luke Skywalker (I'm not making this up.) My dad was so Paul McCartney. Not the old Paul McCartney that married Heather Mills but the young hottie that was in the Beatles.
My mother once walked out of the church bathroom with her skirt tucked into her pantyhose. That's just so precious it's its own punchline.
Whenever I'm sad or down Jessica sends me pictures of beautiful men and I feel all warm and happy inside. So tonight as I set about to write a post that would be foolish and useless so that my mom could meditate on these things for 30 seconds this morning, I asked Jessica for help. This is what she sent me.
Well played, Jessica, well played. Even I feel better after that.